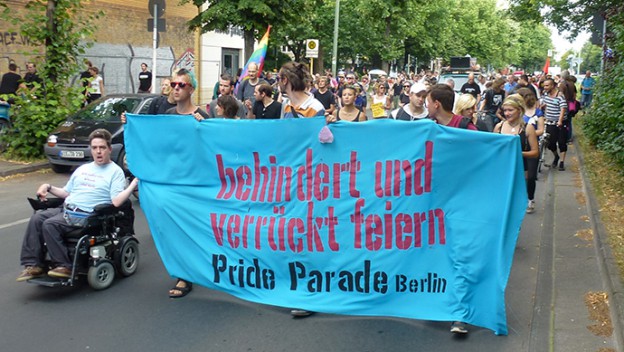 English
We have a say: Call for donations
Support Sign Language interpreters for the Mad and Disability Pride Parade 2019
UPDATE: We already got more than 2000 Euro! Thank you very much! Please keep supporting us. We appreciate any support.
We fight for a world where nobody is excluded. In this fight we want to be as inclusive as possible. We are very happy that so many different people are organizing the "Mad and Disability Pride Parade". This year deaf people are part of the team for the first time. Unfortunately we are not all able to speak German Sign Language. Therefore we found Sign Language interpreters who translate for us. Since the interpreters live from their work, we want to pay them.
We have organized the parade in Berlin since 2013. Our aim is to make mad and disabled people more visible in society. We want to raise public awareness and spread information about the experiences, exclusions and demands of mad and disabled people. We want to open up a space for mad or disabled people for showing their confidence in the streets of Berlin. At the same time we want to protest the fetishization of work and efficieny. We criticize the pressure to be normal and to adapt to arbitrary social norms.
The parade brings together voluntary activist work, protest and a collective celebration of diversity. With this combination we want to include people who usually don't feel comfortable at demonstrations.
The parade is welcoming everybody who is excluded as disabled, mad or "not normal" as well as people who want to show their solidarity. Every year several thousand people come to the parade and protest and celebrate with us.
We organize the parade as an alliance without hierarchies. We are mad and disabled people as well as people who are not directly affected themselves. We are doing everything in our spare time, without getting paid. We don't want any money from the state or from organizations wanting to influence how we work. Therefore we kindly ask you for your support. One hour of Sign Language interpretation costs 50€. So by giving a donation of for example 25€, you help us speak and discuss for half an hour. Untill the parade we will meet approximately 25 times. Every meeting lasts for 2 to 3 hours, always needing two interpreters. Therefore in total we need 7.000€.
Please support diversity in who has access to shaping our parade! It will be appreciated. Every Euro counts! Spread the word to your families, groups, flatshares or donate individually. Yaaaay :)
Questions? Then contact us.
Our banking account is:
Name: Pride Parade
Bank: Sparkasse
IBAN: DE12 1005 0000 0190 2275 08
BIC: BELADEBEXXX