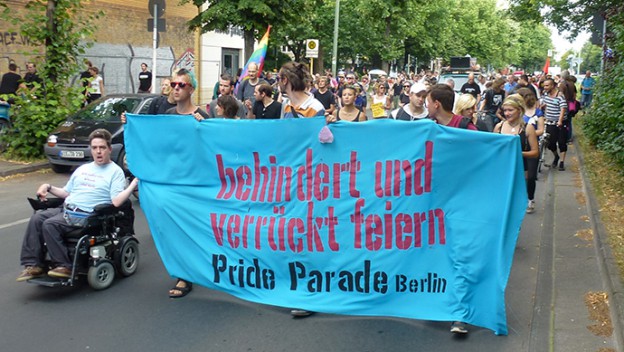 English
Route 2023
The route of the Pride Parade 2023 as PDF. On September 9, we start at 15:00 on the Hermannplatz in Berlin-Neukölln. We turn left into Kottbusser Damm and move 1000 m to Kottbusser Brücke. At the Kottbusser Brücke is our stop. Here there is a rally with speeches. Then we cross the bridge and move straight on Kottbusser Straße 300 m to the traffic circle at the subway station Kottbusser Tor. We turn right into the traffic circle and follow it counterclockwise for 180m. Finally, we leave the traffic circle to the right onto Skalitzer Straße against the direction of travel and follow it for 20 m until we reach the square in front of the Café Südblock at Admiralstraße 1-2. Here our stage for the final rally is set up.
The route is about 1.7 km long. The route leads over asphalt roads. At the end, there will be lowered curbs leading to a square with sidewalk slabs. The entire route is step-free and easy to roll on. It has a total of 13 m uphill and 9 m downhill.
Our hygiene concept
The parade will take place outdoors, where the likelihood of infecting each other with Corona or other diseases is lower than indoors. Nevertheless, there will be a particularly large number of people from at-risk groups at the parade. Therefore, and in general, if you have symptoms of an airborne infectious disease, please do not come to the parade.
If you want to make the parade safer, you can test yourself, wear a mask, or do both.
If someone you are around would like you to keep more distance or wear a mask, please do so!
However, please also remember that there are people who cannot wear a mask, for example, to be able to communicate.
It's important to you that others around you also wear mask and keep distances? Together you can form a block. We suggest the area behind the car for this. But this is just an offer: you may also use any other area.
You want a mask, but you don't have one? We'll give you an FFP2 mask. But please bring a mask yourself, if you can. Our stock is limited.
Call for support 2023
Hi folks,
the "Behindert-und-Verrückt Feiern Pride Parade" is back on the streets! On September 9, 2023 in Berlin ( from Hermannplatz to Kottbusser Tor).
And we need your support again!
During the parade we need for example:
Wagenschutz (people who will accompany our truck with an encircling rope and watch out that nobody gets under the wheels) (14h-18h)
"Filter" (a person who walks next to the truck and intercepts concerns to the person at the wheel), (14h-18h)
Ordner*innen (people who keep watch)
Jumpers for all kinds of things, (14h-21h)
People who distribute flyers or glitter (14h-20h)
People who decorate the float before (10h-14h) or dismantle it after (18h-20h),
people counting the number of participants, (15h-19h)
People who can do whisper translations into other languages or describe what is happening on stage, (15h-17h, 19h-22h)
People who know German Sign Language and can help with communication between deaf and hearing people (15h-21h)
People who help before the parade to set up the stage (10h-12h) and dismantle (22h-23h) in front of Café Südblock.
Of course you can also do parts of the given times.
We are also looking forward to people who distribute flyers in the weeks before.
Please contact us by e-mail: mitmachenparade2023@gmail.com. We are looking forward to you!